Christmas light blogging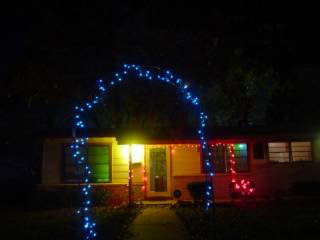 For our first Christmas in the house, we put up lights. We haven't graduated to a tree yet, but this is a big start for us. Who knew that we could be so domestic?
I've never had a tree, and I don't plan to start. I used to have a leopard statue (kinda like
this
) named Gompers (yes, actually after the
labor leader
) that I would put some tinsel on and hang an ornament off his ear, and then we'd put our presents under that. Gompers died in a tragic moving accident when furniture in the moving truck shifted and crushed him into tiny bits.
My presents are currently gathered around the scratching post.